6. November 2017
Kenya's election drama in 2017
Kenya has had two elections this year. The winner of the first poll in August was Kenya's incumbent President Uhuru Kenyatta, 55, and his ruling Jubilee Party. More than 80 % of the voters participated in the August poll. But the supreme court overturned Kenyatta's victory citing irregularities and mismanagement by the electorial commission.
End of October there was a rerun election. Opposition leader Raila Odinga and his Orange Democratic Movement quit the repeat presidential election saying it won't be free and fair. So again Uhuru Kenyatta has been declared the winner. The rerun of presidential polls was marred by violent clashes between security forces and an opposition boycott.
Facts and figures about the second election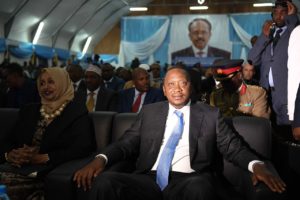 Uhuru Kenyatta won 98 % of the vote, but only 38 % of the voters took part, less than half that recorded in August's vote. Kenyatta accused the opposition of using "intimidation and witchcraft" to stop people voting. Polls were not held in four western consituencies, all opposition strongholds, for security reasons. Is it a victory of the opposition? No, Raila Odinga won't get a third chance. But also the winner has a problem. Kenyatta claims for a second five-year term, despite the fact, that only one third of Kenyans have voted for him. This figure undermines the credibility of his mandate.
One more figure
About 50 people have died in violence since Mr Kenyatta was declared the winner of August's election. "Heavily-armed police are using unlawful force against protesters and bystanders… in what appears to be a deliberate campaign to punish people for continuing to protest," said Amnesty in a statement. Kenyatta did however call for peace, telling Kenyans "your neighbour will be always your neighbour … Let us be our brother's keeper".
The Kenyan elections and familiy battles
The Kenyatta vs. Odinga battle is a political rivalry between the two families and the two Kenyan people, the Luo and the Kikuyu. It began when Jaramogi Odinga, a member of the Luo lost out to Jomo Kenyatta, a member of the Kikuyu. Kenyatta became Kenya's first post-independence leader in 1964. Jaramogi Oginga Odinga led the opposition for three decades but never the country.
Odinga's political agenda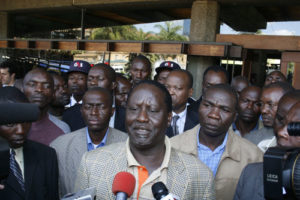 Raila Odinga  and the Orange Democratic Movement were standing for a change from Kenya's past leadership. Born in 1945, he is the son of Jaramogi Oginga Odinga, an independence hero who was the country's first vice-president.
Raila Odinga, educated in Europe, was arrested three times for pressing for an end to one-party rule. His manifesto policies are the devolution of power, which Odinga insists is necessary to ensure an equitable distribution of wealth. Although his opponents have portrayed him as a socialist who could damage the economy, Odinga insists the business community has nothing to fear. Odinga has promised to repair the country's infrastructure, especially the road and rail network, which has deteriorated steadily since independence. He also promised to tackle high-level corruption. But several senior members of his party have serious corruption allegations hanging over them.
Kenyatta's political agenda
Uhuru Kenyatta was born in 1961, shortly after his father Jomo Kenyatta was released from nearly a decade in British jails and before becoming Kenya's first president in 1964. Uhurus first name means "freedom" in Kiswahili. Kenyatta is regarded as a leader of the Kikuyu people, the country's single largest ethnic group. He is married with three children and regularly attends Catholic church. The 55-year-old US-educated multi-millionaire owns an array of businesses, properties and tracts of land. Kenyatta won the poll in 2013 despite being indicted by the International Criminal Court (ICC), for alleged roles in orchestrating violence that left over 1,100 dead after the previous election in 2007. In 2014 the ICC dropped charges against Kenyatta citing the disappearance of witnesses and lack of evidence. Kenyatta's first term has been defined by big spending on infrastructure and impressive economic growth in a tough climate. But this has gone hand-in-hand with spiralling debt and widening inequality.
What will Kenya face in the future?
Shortly after the result being declared, there were clashes reported between protesters and police in the Nairobi slum neighbourhood of Kibera, an opposition stronghold. Elsewhere in the city celebrations broke out among Kenyatta supporters. Kenya remains more divided than at any time for many years. Fears of further violence between ethnic groups remain high, despite efforts by civil society groups and some politicians to reduce tensions. Odinga has called for fresh elections in 90 days. But most people think that Kenya needs to have a dialogue. "We need to talk about the hatred and bitterness that people have. We don't need an election right now," Ngila, a member of the electorial commission says. "Those people who died, they don't need an election, they need justice."
More on Kenya